Improving Private Sector Energy Efficiency
During Paris Climate Week global business leaders reaffirmed their commitment to supporting the transition to a clean energy future- an integral element in reaching a meaningful agreement at COP21 this December.
Making drastic energy efficiency improvements is vital in achieving this low carbon vision. Recognised by Deutche Bank as the 'first fuel', increased investment in energy efficiency will not only saves money and carbon dioxide but drive green economic growth, creating skilled jobs and new business opportunities.

The facts:
Average market returns from investing in energy efficiency could reach up to 17%
Buildings present the greatest opportunity for improved energy efficiency, responsible for 40% of a country's energy use
By 2030, improved energy efficiency in buildings and industry has the potential to save the equivalent electricity output of 1,300 power plants
The private sector is increasingly seeing the value of investing in supply chain efficiency, as improving the energy performance of global operations begins to make both environmental and business sense.
This webinar will unite business leaders to discuss the role of the private sector in integrating energy efficiency measures into business models, considering the financial impact of undertaking such measures and policies that would support greater implementation.
Watch Webinar Recording
You need to register on the right to access the video
Discussion points
What funding opportunities are available to drive energy efficient measures within businesses? How tangible are the returns on this investment?
How can global supply chains best incorporate energy efficiency measures across their operations?
How can energy efficiency improvements be measured and managed to ensure ongoing improvement?
Panel
Helen Sahi, Head of Corporate Sustainability, Avery Dennison

Daniel Wiedl, Sr. Director of Global Process Technology, Avery Dennison Materials Group

Anna Watson, Head of Production, Climate Action

Terri Wills, Chief Executive Officer, The World Green Building Council
---
Who should attend the webinar?
Corporate sustianability officers
EE technology developers
Local and national energy policy makers
Policy think tanks
NGOs
Industry associations
Consultants
Research units

Why attend?
Understand more about private sector engagement in implementing energy efficiency measures
Learn about available funding and successful case studies for improving energy efficiency across your organisation
Discover the successful mechanisms behind bringing energy efficiency technologies into mainstream markets
Be part of the discussion around the way in which policy can shape business involvement in this emerging low carbon industry
---
Supported by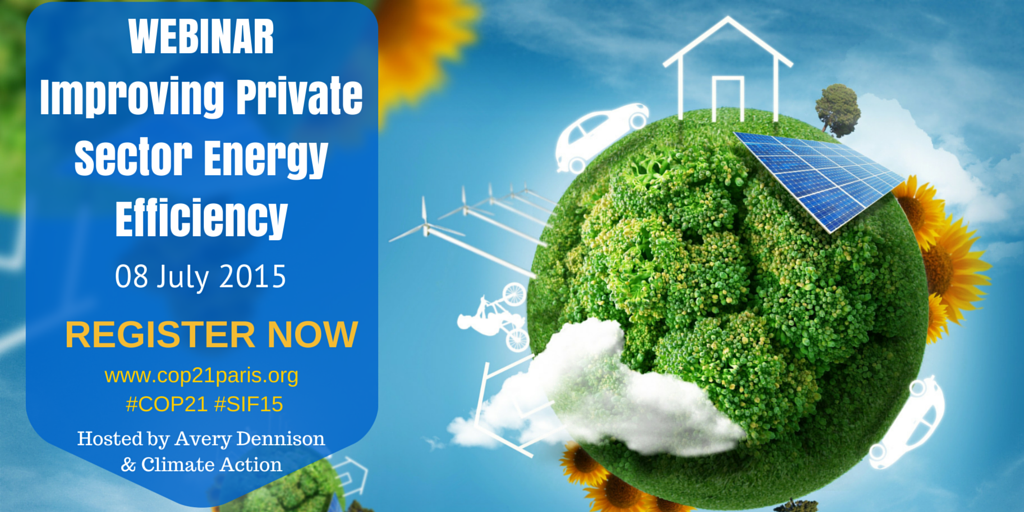 Register
Register to view webinars and other site content.
Login
Log in to access exclusive site content.