Sustainable Cities for Climate Action: An Infographic
The latest infographic from Climate Action explores the role of cities in accelerating sustainable growth- including actions from utilising renewable energy to driving urban mobility to embedding efficiency measures.
As countries continue to submit INDCs ahead of COP21, the growing role of cities in driving post-2020 climate action cannot be ignored. Increasingly city leaders are engaging in positive actions around climate finance, renewable energy, mobility and efficiency, with C40 cities recording the conception of over 8000 measures, policies, and programmes since they started monitoring.
Recent examples of positive action include Adelaide, Australia, announcing the aim to become the world's first carbon neutral city, and Oberlin, Ohio, moving towards a 89% renewable energy supply.
The Sustainable Cities for Climate Action infographic explores many similar examples of forward thinking solutions, gathering facts from across the globe to showcase the most promising opportunities for sustainable urban growth.
A sneak peek at the facts…
London plans to install 6,000 charging points and 3,000 battery-powered cars by 2018
Gothenburg and Johannesburg have issued $489 million worth of green bonds
Shanghai plans to invest $16.3 billion over the next 3 years on 220 anti-pollution projects
This infographic is brought to you by Climate Action and UNEP, hosts of the 6th annual Sustainable Innovation Forum (SIF15), which will be held alongside COP21 in Paris.
You can download the infographic for free here (please register or sign-in).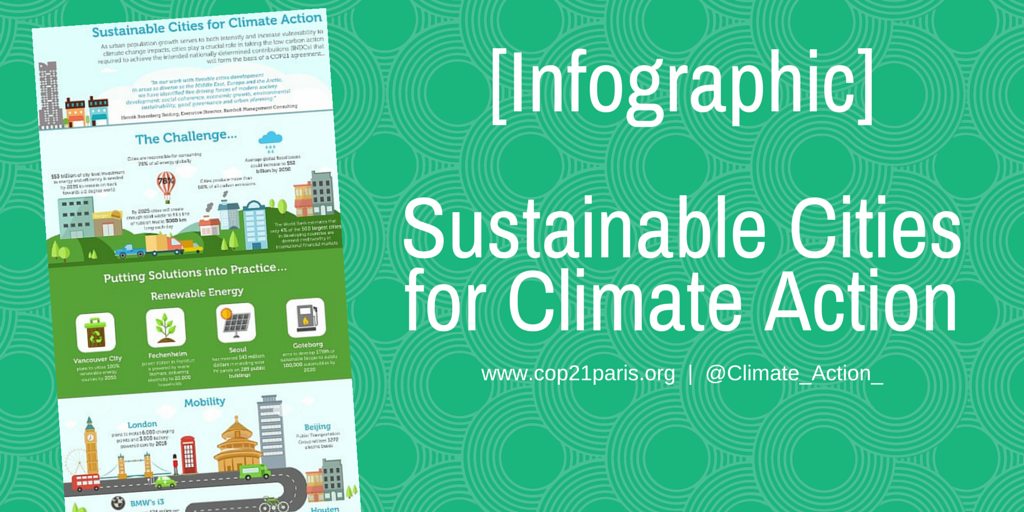 Register
Register to view webinars and other site content.
Login
Log in to access exclusive site content.
---